Welcome to The Retired Investor

Invest Wisely…Get an Informed Second Opinion


In December 2019, we published "What Do We Know About Escaping the Persistent Deflation Regime?"

In light of the high uncertainty created by COVID-19, we are making it available for free.


"Will we outlive our savings?" "Will we be able to leave a bequest to others?"
In today's post-COVID world, these questions create more anxiety than ever before.

As shown in the chart below, the challenges you face when investing after retirement are much more complex than those you face before you retire. That's why decumulation has been called "the nastiest, hardest problem in finance."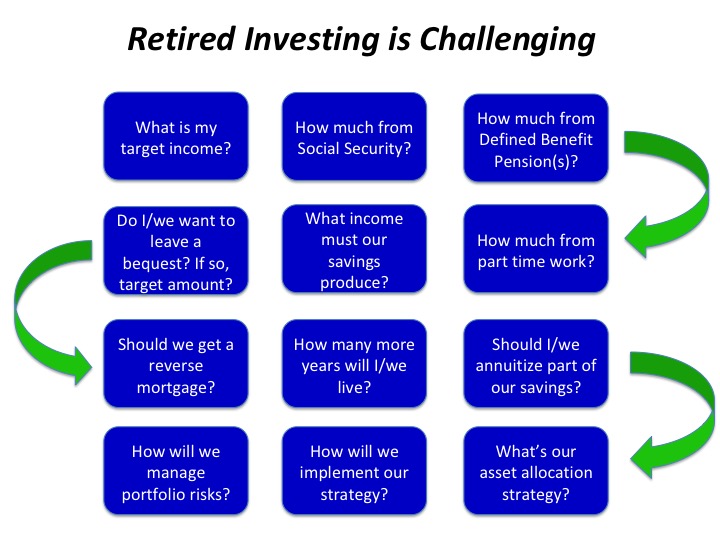 Index Investor LLC relaunched the Retired Investor to help you logically think about these questions, manage your risk, and reduce your uncertainty and anxiety.

Since 1997, our purpose at Index Investor LLC has been to help investors, corporate, and government leaders better anticipate, more accurately assess, and adapt in time to emerging threats.

For Retired Investors, this means providing early warning of potentially large losses that can ruin their life plans.


For 23 years, we've made sense of global macro uncertainties, and warned subscribers in advance of the 2008, 2000 and 2020 financial crises, enabling them to avoid portfolio losses and the painful regrets they would have caused.


For only $149/year (or $14.95/month), here's what you'll get in each monthly issue of the Retired Investor:


(1) Narrative forecasts and quantitative probability estimates for macro system and financial market regime changes over the next 12 and 36 months.

(2) Estimated asset class over/under valuations and updated market stress indicators (e.g., levels of uncertainty, herding, liquidity, and credit risk.

(3) Actionable Insights: The implications of our forecasts for changes in portfolio asset allocation.

(4) A feature article providing an in-depth analysis of either a key macro-uncertainty (e.g., how close the system is to one or more critical thresholds) or an aspect of making good investment decisions in the face of complexity and uncertainty.

(5) In between monthly publications, we publish flash updates — on our LinkedIn page, via email, and via our Twitter @indexllc — if and when we obtain high value information that results in a substantial change to a forecast probability.

You can download a free sample copy of a recent issue to get a better understanding of what we provide subscribers each month.

You can also learn more about our forecasting methodology here.

Click the MENU Button above to browse the free section of this site, which contains a wealth of helpful information, including our core investment beliefs, an overview of retired investing, how to quantify your portfolio goals, and reviews of asset allocation, portfolio construction, and risk management.

You can also see the results of our model Retired Investor portfolios between 2003 and 2019.

And in our free Research Library you can learn more about critical uncertainties that drive medium and long-term asset class valuations, including technological, environmental, economic, national security, social, demographic, political, and financial market trends and uncertainties, as well as potential "grey swan" wildcards like infectious disease, cyber, and large-scale electromagnetic events.

This knowledge helps to hone your own instincts for recognizing surprising new information that could indicate large losses lie ahead.

We published Retired Investor from 2004 to 2011. All our back issues are here. Back issues of the Index Investor from 2000 to 2011 are here.

We also publish The Index Investor, which provides detailed global macro research and asset allocation analysis.

Here's what one subscriber to the Index Investor recently wrote to us: "I am delighted to get your analysis. We get everything from Wall Street, and they all seem to be saying the same thing. Your take is greatly appreciated." Another said "your research is unique. There's nothing else like this out there."

The main difference between Retired Investor and Index Investor is that the latter costs more, but comes with access to our Evidence Files, where we continuously accumulate and synthesize high value information (threat indicators and surprises) in the areas of technology, health and disease, energy and the environment, the economy, national security, society, and politics. Our Evidence Files are organized both chronologically and by subject.

More information about the history of Index Investor and Retired Investor can be found here.

Index Investor LLC is affiliated with Britten Coyne Partners, which provides strategic risk related consulting services to management teams and boards, and the Strategic Risk Institute LLC, which provides online and in-person education offerings leading to a Certificate in Strategic Risk Governance and Management.


Follow The Index Investor on Twitter
Cookies and Privacy Notice
We use cookies to collect and analyze information on site performance and usage. By clicking any content on this site you agree to allow cookies to be placed. For more information see our
privacy policy
.